Jabal Al Risan& hARAM
presents the 2nd annual
Festival of Forbidden Life

PLANTING TREES, PLANTING LIFE

The festival began on
October 28, 6AM -
A virtual event on Oct. 29 from 8AM-2PM EST was hosted by the Palestine Museum U.S.
A butterfly flows through the air following some path, on the ground gazelles leave a trail, and the birds come. And then there are the trees, still growing in this often dry and harsh area. There are olive trees planted between stones even, somehow surviving like that. There are a few wells, and artifacts appear in the field, broken pieces of clay pots. There are wells built with stones found underground. People have touched this place, who know how to work with this land, and have been living here for generations. But these are only signs, signs of a people's touch with nature but there is no one in sight. We are on Al Risan mountain, in the heart of Palestine.

The Festival of Forbidden Life is about bringing people back to their land, to continue making tea, making bread, going for a walk, planting trees, and practicing daily life. The threat of violence is close, very close. We are in danger from soldiers and settlers, there is no protection, only the need to be together. There will be musakhan, maqloubeh, trees being planted, music, dancing, exhibitions, olive picking, dabke, yoga, film screenings, tatreez, donkeys, fashion show, storytelling, drawing, sculpture, a football match, theater, tea and coffee, with contributions from Kenya, Rwanda, South Africa, Mexico, Turtle Island, Armenia, the Netherlands, Denmark, Ireland, Catalonia, Senegal, Lebanon, Palestine, and more.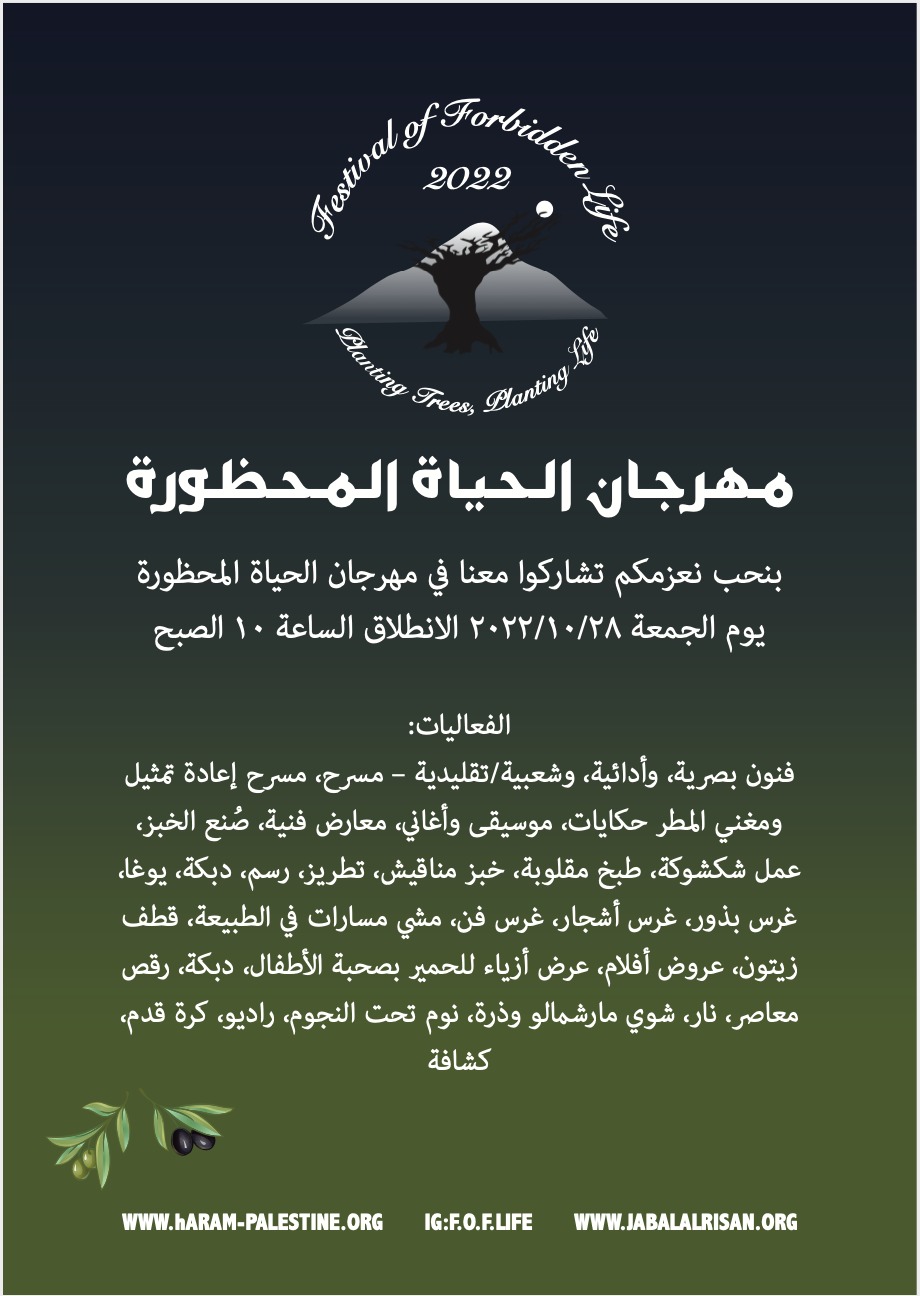 As the festival name implies, we are living in and through a paradox. Art, like life, cannot exist without an established community, but here we are creating in its absence, on a land where life has been forbidden. Like ghosts of the present.


Al Risan mountain is located in the heart of Palestine, 10km northwest of Ramallah. For centuries its land has been cultivated and owned by Palestinians. It is now demarcated as part of "Area C": land under Israeli military control since the 1995 Oslo II Accord. As of August 2018, armed Israeli squatters established an outpost on the mountain's summit, violating both international and Israeli law, and constructing over the remains of a Roman village. Ancient artifacts are now being buried beneath them. The Israeli army is nevertheless protecting this settlement.


It is possible that the work made for this festival will be stolen, vandalized or destroyed, as was done recently to a communal arts studio we had created here. Soldiers or settlers may attempt to stop the festival itself, despite the fact that freedom of artistic expression on this site is protected by international law. These circumstances demand that we reconsider the political force implicated in such ephemeral celebrations of life. What could it mean for sculptures, film, poetry, theater, music and cooking, to stand for a missing community, a people being erased from their land? To share this truth with the world, that other strategies are required to resist colonization of this earth.
You Are Not Alone - Safety Training for Artists
Using ARC's new
Safety Guide for Artists
as a springboard, this training will provide a broad overview of the threats artists face around the world, as well as practical advice on how to prepare for, react to, and overcome them. It will begin with an overview of the patterns of persecution that artists face, including who is most likely to face risk, why, and from where, as well as a "Know Your Rights'' component aimed at introducing trainees to laws commonly used to criminalize artists (examples of the laws can be categorised into country specific laws to the extent possible or regional specific). After this introductory portion that aims to help artists anticipate risk, the training will explore best strategies and practices to prepare for risk and equip trainees with threat modeling skills, a simple security planning process that involves identifying your threats, assessing your risks from those threats, creating a plan to protect yourselves against them. Finally, this training will give artists an overview of how to document threats and also map the range of resources available to artists so that they are better equipped to identify, seek, and receive assistance.
Register here please, places are limited

the training will be October 30th 2021, on zoom for 2 hours, from 7-9pm Jerusalem time.
https://bit.ly/3BYsFMC